Mastering these 10 essential skills will help you lay the foundation of your understanding of MS PowerPoint architecture as a presentation creating tool.
As a novice users, you will often be involved in work that requires a basic understanding of MS PowerPoint as a tool for developing and creating presentations. We'll show you 10 support pillars, 10 points on which PowerPoint stands. In following through them you will quickly become comfortable using the tools and creating presentations in PowerPoint.
Select and Change a Theme
Themes are just a set of styles that apply to the content of your presentation: text, shapes, tables. It defines formatting rules and color scheme.
You can choose a theme before starting production. To do this, use the PowerPoint prompt when starting the program.
In case you want to select a different theme, go to the Design tab, and select a theme that fits your needs. Its icon will be located to the left of the theme ribbon.
You can also select a variant of that same theme (which basically just changes the color of the theme).
Look our PowerPoint Guide to Themes and SmartArt to learn more about Themes.
New Slide
Slides are frames in which you should place your content.
You can arrange the slides in the desired sequence, group them by categories and the meaning. Your whole presentation will be a set of such slides.
To add a new slide you can either navigate to the Insert tab and click on New Slide button (located to the very left of the ribbon), or you can right click under the slide thumbnails section (located to the left of the main canvas) and select New Slide.
Select and Change the Slide Layout
Slide layouts are built-in pre-formatted slides.
For example, you can have a Title Slide with a big text box and font size. Other layouts are built more for body slides with text, lists, tables or slides with photo placeholders. These allow you to insert a text and photo without having to reformat.
To change the layout of a slide, select the slide you wish to change and select Layout on the Home tab ribbon. Then choose which layout you would like to switch the slide to be.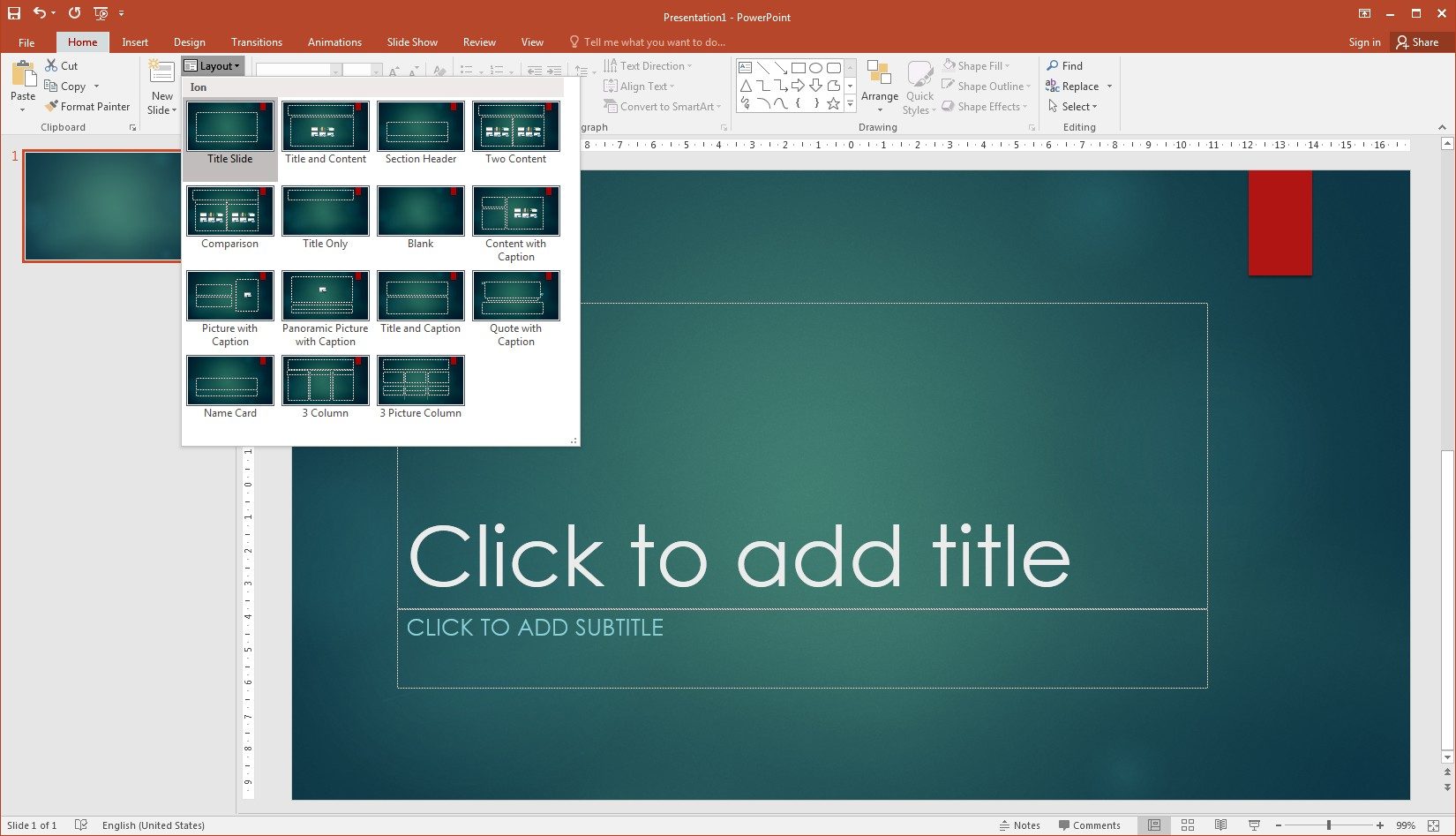 If you are not happy with the PowerPoint built-in pre-made slide layouts, you can to try developing a slide layout using the PowerPoint Slide Master yourself.
Insert Text/Shapes
To insert text into a slide that already has a text box ready for you to use is as easy as clicking and typing.
But if you wanted to start from scratch and to try by adding your own text box, then simply go to the Insert tab and click on Text Box button to the Text group of the ribbon and new text box will appear. Then click it and drag to the size and dimension that fit your specifications.
The process is almost the exact same for inserting a shape into your project file:
go to the Insert tab and click on Shapes button to the Illustrations group;
select which shape you want to insert
and then click and drag the shape to meet your needs.
Insert and Modify a Chart
Charts are descriptive objects that let you display numbers and statistics in an interesting and informative way.
To insert a chart, you simply go to the Insert tab and click on Chart. You will be given a variety of charts to use in your project. Once you insert a chart of your choosing, click on the Edit Data button while selecting the graph. This will allow you to change the numbers that are displayed graphically.
Note, to see the options available to edit on the chart you need to be selecting the chart and using the tabs located under the Chart Tools subsection.
You can change the color and style of the chart by using the Design tab of the Chart Tools. This will allow you to add shadows and other design aspects to you charts.
You can add extra elements to the chart such as a legend, data tables and a chart title by clicking on the Add Chart Element button located to the very left of the ribbon. Or you can click on the green plus symbol located to the right of the chart.
To get a more in depth walk-through concerning charts, look our guide to Graphs In Your PowerPoint Diagrams.
SmartArt
SmartArt is a function that turns plain text into a graphic that can be modified.
It is a simple yet effective way to get your audience to pay more attention to your presentation.
There are two ways to insert SmartArt into your project:
by simply going to the Insert tab and click on SmartArt button.
From there you can insert the text you want into the given text boxes;
by transforming already given text (including bullet points) into SmartArt.
You do this by right clicking on the text box you wish to transform and scroll down to Convert to SmartArt. You can then select from the SmartArt templates given to you or click on More SmartArt Graphics button to view the whole library.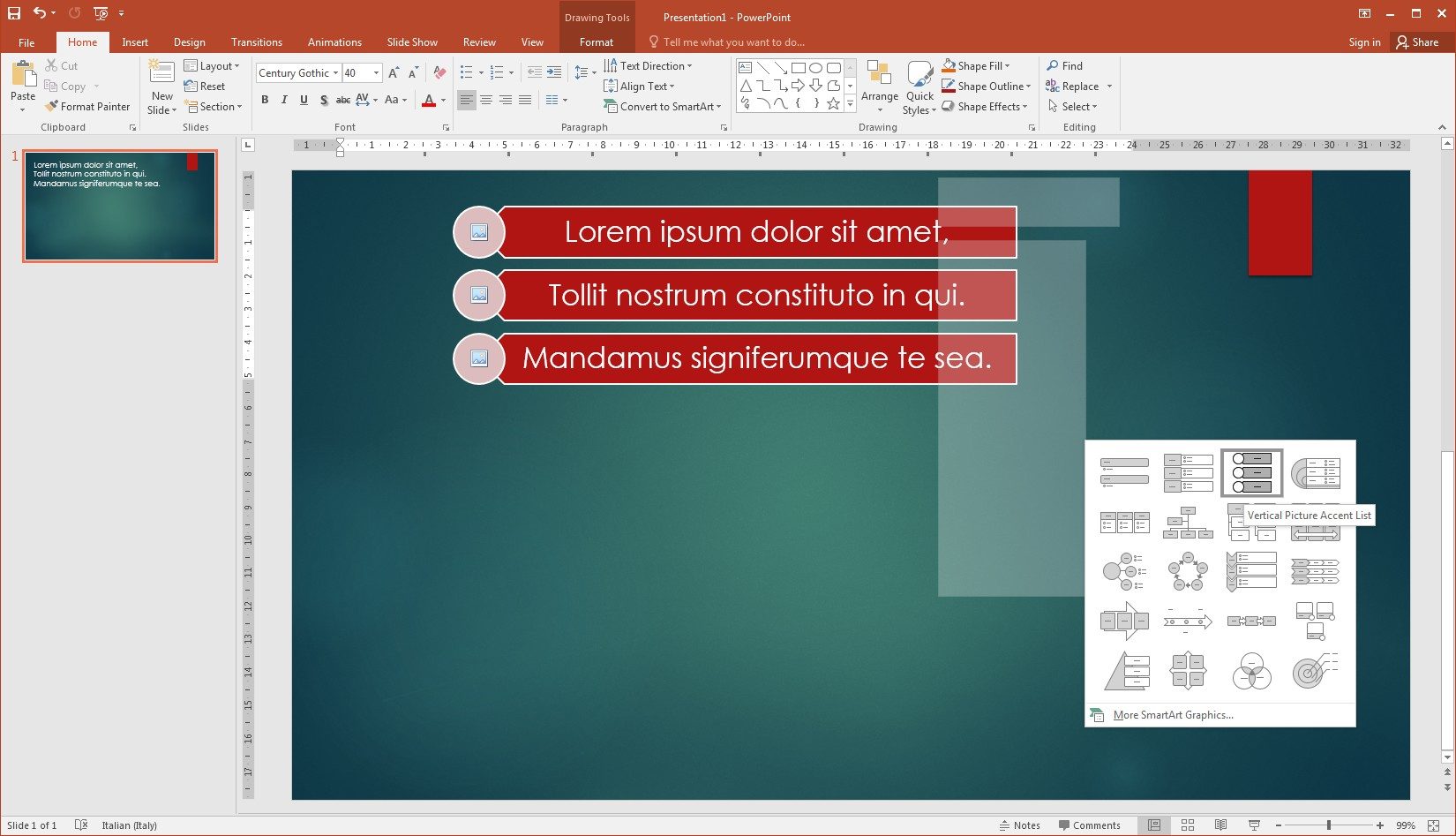 Look our PowerPoint Guide to Themes and SmartArt to learn more about SmartArt.
Easy Animations
Animations are a set of visual effects which can be applies to the slide content elements: text, shapes, images, etc.
To apply an animation you need to navigate to the Animation tab. There, you can apply any animation from the built-in library:
сlick on the object you want to add an animation to,
and then click on the animation you wish to apply.
There is also a drop down arrow that will reveal more animations available to you.
Look our PowerPoint Guide to Animations & Transitions to learn more about Animations.
Simple Transitions
Transitions are a special kind of animation that applies to the whole slide to fill in the gaps between the slides.
To apply a transition you need to navigate to the Transitions tab. There, you can apply any transition from the built-in transitions library. Be aware that there is a drop down arrow that will show you many more transitions that are available to you. Simply click on a transition to apply it to the selected slide. Once it is applied, you'll see a star under the slide number.
Look our PowerPoint Guide to Animations & Transitions to learn more about Transitions.
Rehearse Timings
The Rehearse Timings feature allows you to run through your project as if you were giving it to an actual audience, and it will keep track of how long it took you to go through each slide (and in total, your whole project).
To start rehearsing your timings, go to the Slide Show tab and click on Rehearse Timings button on Set Up group. This will automatically start your presentation with a timer in the upper lefthand corner. Now go through your presentation as if you were giving it to an audience.
At the end of the presentation you will be given the option to keep or discard the timings. In accepting the timings, your presentation will be bound to those times.
Which means the time it took you to go through a slide in the rehearsal will now be set in stone. And after that time the slide will automatically advance.
This can be disabled, if needed.
Presenter View
Presenter View is exactly what it sounds like: A view for presenters.
The Presenter View gives the presenter a different view of the presentation than what is being shown to the audience.
You are given a smaller view of the current slide, as well as a preview of what slide is to come. This allows you to transition smoothly, both cognitively and verbally.
You are given tools like a laser pointer/pen to bring attention to certain areas in your project.
You can blank out the presentation completely with one click to permits the full attention of your audience for a live discussion.
To enable Presenter View go to the Slide Show tab and check the box next to Use Presenter View. The next time you preview your project, you will have the Presenter View pop up as well as what the audience will see.